Hello loves :) In case you forgot, [which I'm SURE you haven't!] I'm having a giveaway!
Click HERE to enter!! :)
I love reading everything you have to say in the comments. I'm getting some great ideas just from reading the few entries I have so far! Please spread the word and get all your friends to enter as well!
For a while now, I have been wanting to participate in the infamous What I Ate Wednesday (WIAW) over at
Peas And Crayons
. Well, today is the day! Welcome to my very first WIAW post! :)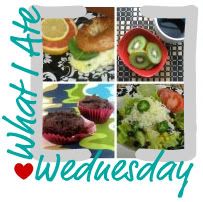 Before rushing out the door to work, I had a square of dark chocolate with orange peel (healthy breakfast, right?) and a raspberry fruit leather bar from Trader Joe's.
For lunch, I ate my leftover Raw Taco Salad that I had for lunch yesterday. It was from Loving Hut, a little vegan cafe just up the street from my house. Super delicious!
For a snack, I had a bowl of beautiful red cherries. The thing that makes them even more beautiful is that cherries are on sale right now for $1.99 a pound! What a BARGAIN!!! So recently I've been eating my weight in cherries. Enough said.
For dinner, I cooked up a fresh spaghetti squash that I grew in my garden and smothered it in roasted garlic marinara sauce. YUM.
I will be going to Graeter's Ice Cream with my boyfriend after he gets off work, and he's going to buy me some strawberry sorbet! So that's my dessert :)
On another random note...
My fishy (Aristotle, a blue beta fish) says hello!
And...
I had watermelon sorbet the other day! It was SO GOOD.

Finally....
I got a new tattoo a couple days ago! What do you think?!