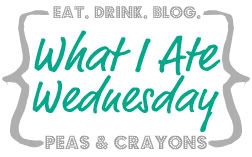 It's that time again! I'm a little sad that I've been slacking so much on my What I Ate Wednesdays, along with being unable to post Feature Fridays. College Life is CUH-RA-ZEE. Oh well.
Here's a look at what I've been eating since I've been back at school. Yummy! Please excuse the horrible photography. These pictures are from my cell phone!
What I Ate [At Xavier University] This Month! :)
Cafeteria food: Carrot sticks, spinach hummus, roasted red pepper hummus, black bean and corn salsa,
warm lentil salad, and rice with lentils.
Cafeteria food: Warm lentil and potato salad, red quinoa salad, steamed broccoli,
and GF peanut butter cookies (They said these were vegan. Just found out they are not. UGH.)
LaRosas's veggie pizza with no cheese!
A veggie "unwich" from Jimmy John's. They wrote vegan pride on my sandwich
and I didn't even tell them I was vegan!!! I was so excited!!
Cafeteria food: Asian salad with lots of veggies and an amazing Asian vinaigrette. So good.
I've also eaten my fair share of Larabars (the tropical flavor is one of my absolute favorites now. and chocolate chip cookie dough!), trail mix, banana bowls, and LOTS of totally unhealthy junk food I should NOT be eating. I plan to get back on track by eating mostly raw for the rest of the week! Go raw, healthy, deliciously nutritious foods!
Happy WIAW!