I love Wednesdays. Why? Because I get to show you what I've been pigging out on all week! It really makes me sad when I forget or don't get around to post these things. Plus, it brings in quite a bit of traffic to my site. So it's just all around awesome :)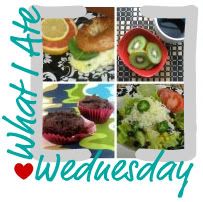 Are you ready for this?!
Yummy Food!
Homemade Pumpkin Donuts with Cinnamon Sugar
Homemade Fudgie Pumpkin Cups
Homemade Pumpkin Mac & Cheese
Arrowhead Farms French Toast Cereal with Almonds and Coconut
Currito Burrito Bowl with Tofu
You MIGHT be wondering why the obsession with pumpkin this week. Well, let me tell you.
I'm going to be in a cooking competition on October 15! I'm PUMPED. So excited. The theme is pumpkin, so everything entered has to feature pumpkin in the recipe. There are two categories: savory and baked. For savory, I will be entering my pumpkin mac & cheese. Sounds weird... but it's SO. FREAKIN. GOOD. Seriously. The best you'll ever eat. Recipe to come.
I'm still deciding what to enter for the baked part, so I've been testing recipes. Donuts, fudge cups, eclairs (didn't work so well), cookies, rice krispie treats, etc.... I so have many good ideas, but I'm not sure what I want to enter. So I'll just keep baking until I find the right thing!
What's your favorite thing to make with pumpkin?
Much love,