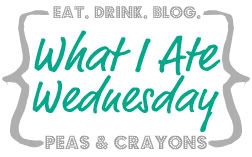 It's time again for another WIAW: college edition!
It's been a really rough week for me, definitely having its ups and downs. That being said, I've eaten a lot more than I should have this week and exercised a lot less than I should have (although, that is not ENTIRELY my fault. Monday the gym was closed, and yesterday I didn't go to bed until 5am, so I was not about to work out at 7:30am!).
On Monday, I broke up with my boyfriend (Stuart) of a year and eight months. Not exactly the easiest thing on the planet, but definitely the right decision for me and, I think, for the both of us. But more on that situation later.
So what does a girl eat when she's upset and frustrated?
Why, she eats sorbet with lots of chocolate chips and fresh fruit from Yogurt Vi, of course! I had orange yesterday, although the picture shows watermelon sorbet. Both are delicious. I also went shopping with two of my lady friends for some therapy and bought three pairs of shoes and three bottles of nail polish. But more on that later as well :)
Snacked on some Kaia RAW buckwheat granola.
Also snacked on some McCabe's PB & Chocolate granola. SO GOOD.
Breakfast was some Arrowhead Mills French Toast Squares cereal with a banana and almond milk.
I've also eaten a LOT of salads with hummus.
And the cafeteria even had VEGAN CURRY this week!
It was amazing, to say the least.
Today I forgot to tell the barista at Coffee Emporium that I wanted soymilk in my coffee instead of regular - so I accidentally drank a big frappuccino with regular milk... and felt slightly poopy after. I wasn't good at being vegan today. Oops.
That's pretty much what my week has been like.
What are some of the best things you've eaten this week?
Much love,