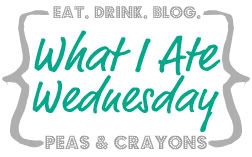 It's that time again for What I Ate Wednesday!
Of course, I never remember to take pictures for this post, so today I snapped a quick couple pictures of the things I ate before promptly forgetting about WIAW for the rest of the day. Go figure.
A package sent to me by my mom contained lots of goodies from Trader Joe's, like Larabars, fruit leather, dried cherries, and tropical trail mix.
Some So Delicious, Stevia sweetened ice cream. Pretty good!
Sweet and Sour Tempeh from the cafeteria! It was REALLY good!
Carrot sticks and hummus! I love hummus SO much.
Black Bean Soup with Dark Ale...although, I won't lie, I couldn't taste any beer. Hmm. But still really delicious nonetheless!
Someone send me some of that So Delicious Greek Yogurt. I can't find it ANYWHERE. I really want to try some! It sounds amazing!
That's all for this week, loves! Look for a GIVEAWAY tomorrow!!