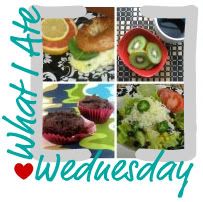 I'm sad that I didn't get the chance to type up a blog post for last week's WIAW. Hopefully, this post will make up for it!
I've spent a lot of my time crafting recipes for the blog this week. So, naturally.... I've been eating them! Ready to see what's to come?! (This is also because I'm awful about taking pictures of my actual meals during the week).
Things that are soon to come:
Pumpkin Seed Brittle (recipe coming on Friday!)
Carrot Raisin Sandwich Bread
Raspberry White Chocolate Chip Shortbread
Lentil Split-Pea Soup
Whole Soy & Co. Blueberry Yogurt (review and giveaway to come soon!)
What's your favorite thing you ate this week?
Much love,