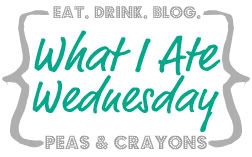 Again, I apologize for my lack of pictures. I never seem to remember to photograph my food for WIAW!
Wanna know who won my
giveaway
? Keep reading to find out!
Currito Burrito, of course! Burrito bowls and salads! I've eaten a lot of these this week, with it being back to school and all.... I had a new one yesterday, the Tikka Burrito, which is Indian tikka masala with chickpeas! So good.
You know, I expected to fall madly in love with this new Greek style yogurt. But I didn't! It could very well be because it was plain; I like flavored yogurts, but Whole Foods only ordered plain, so you take what you can get. Overall, I was disappointed with this. Hopefully I can try a flavored variety in the future and give it another chance.
I've heard about this from people. Powdered peanut butter! So interesting! I actually like it. It comes in two flavors, original and chocolate. Obviously, I got chocolate! I recommend trying this out for yourself.
Okay. Time for the winners to be announced! Here they are!
Package #1: peanutbutterlover
Package #2: ktbwood
Package #3: Lexi @ Cura Personalis Foodie
Congratulations to everyone! Please
EMAIL ME
your contact info so I can ship these right off to you! (Well, not RIGHT off, I need to get some shipping boxes first, but you know what I mean....) Congrats again and happy WIAW!
Much love,