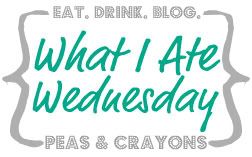 Hello, my wonderful WIAW friends! It has been so long (read: 2 weeks) since I have participated in WIAW!
It's been a sad, two weeks :(
I've just been SO SWAMPED with school. Literally. All of my homework is reading and writing papers, and I have been up to my nose with both of them! Add in RA duties, babysitting, internship applications, and other events and you have one crazy busy college girl.
Speaking of internships, does anyone know of some online journalism/blogging internships? Send them my way, if you do!
Are we ready to WIAW?!
Not bad, for a phone picture! A
La Tortilla Factory
Flax & Fiber tortilla with almond butter, cherries, almonds and chia seeds! Review to come of these tortillas shortly!
My most recent creation: Quinoa Veggie Soup. Quick and easy and loaded with potatoes, peas, black and white beans, and quinoa! Yummy. Recipe to come soon as well!
My most FAVORITE recent invention....Rocky Road Brownies! oh my goodness, they are so good. I had people knocking on my door for these and (literally!) rolling their eyes. They were amazing. I cant wait for everyone to try them out when I post the recipe!
A cake that I made with my residents for our 60s tie dye and crafts program! Isn't that the coolest cake ever? I bought
this cakepan
for the program and I absolutely love it!
Tea! LOTS and lots of tea! Mostly because of my adorable new mug from Anthropologie!
What did you eat this week?
Peace, love, and WIAW,