Hi loves! It's another week of everybody's favorite, WIAW!
This week was a bit of an unhealthy week for me. And also a lack of exercise week.
I went home this weekend, where I had some baking I needed to do. I had food I needed to use before it spoiled, extra cookies, I wasn't sure what to do with, Daring Baker's recipes to make, and more. So, of course, there were a lot of sweets around.
With leftover cookies, I made a gingersnap crust for my Blueberry Key Lime Pie (recipe posted eventually!). For DB, I made Dutch Crunch Brown Rice Bread. I also made apple caramel cake (a box mix from Duncan Hines), and some other things I can't really remember.
Then, I went to see The Hunger Games with my parents. Fabulous movie. Right next door there is pizza and frozen yogurt, so....that's what we had for dinner and dessert! A mixed mushroom pizza with roasted garlic cloves and red peppers & greek salad with roasted red pepper dressing from Dewey's Pizza, and a mix of flavors from Orange Leaf fro-yo! It was de-lish.
As you'll see from the picture, I had Stonyfield's key lime yogurt. I had high expectations, and this yogurt missed the mark completely. I only ate half because the lime flavor was not as strong as it should have been. Still looking for that perfect key lime yogurt! Any suggestions?
Also pictured: Love Grown granola with kiwi and blueberries, GNU Blueberry Cobbler Bar, Cookiehead's sprouted grain mini brownies (my new favorite brownie - review coming soon!) & cranberry orange mini muffins.
I'm also kicking myself in the butt this week about my workout routine. I didn't run on Friday because I went home for the weekend around 10:30AM, which is when I usually run. I didn't get a chance to run over the weekend, either. Then Monday rolls around, and I'm up until 4AM the night before working on a class presentation, so I take a nap instead of running.
All in all, a rough week for me. Not to mention the homework load I have approaching me. Just staying on top of it all is a bit daunting. Hopefully, I'll be back on track tomorrow - although behind in my schedule. Yet again. Oh well. My first 5k is not scheduled until April 28, so I should be okay. I do notice that whenever I miss a week of exercising, I'm a lot more self-conscious about my weight. Even though I haven't been losing weight from running, and in fact may have gained a couple pounds from eating more than normal, I feel fine as long as I workout. But since I've been doing literally nothing - I feel more self-conscious, which really stinks! Ah, well. I just need to get comfortable with my weight again. The funny thing is, a few years ago when I weighed my heaviest, my self-esteem was much higher and I cared a lot less about how I looked. Weird how that works out, isn't it?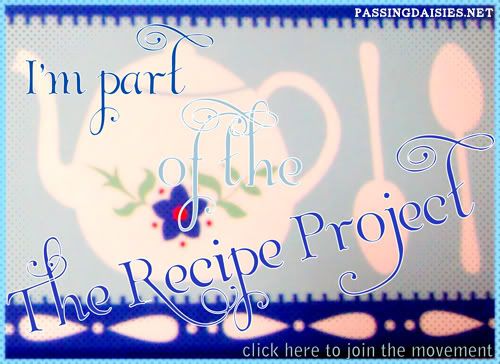 Okay, guys - I want to encourage to everyone to
please
sign up to participate in my new program - The Recipe Project! I am really excited about it and am trying to get together some participants for this month! Please
click here
to learn more about it! I would
really
appreciate it!
Finally, I once again apologize for my lack of blogging recently. I'm going to try to get back to blogging more frequently - make sure to keep checkin' back, because I have a lot of giveaways coming up soon from some great companies!
One more week of school, and then it's Easter break! I'm so excited for Easter! YAY!!!
Much love,