Hey guys!
Life, as usual, has been crazy busy. I have a feeling I won't be posting much until summer hits, when hopefully I will be able to post more! I am a bit behind on some product reviews I have, so this post will be putting three reviews into one. But first, a brief update on what's be going on with me!
Running still has not been happening, and my first 5k is on April 28. I'm pretty sure I'm just going to end up winging it and hoping for the best, alternating between running and walking. I tried to to run over Easter break and just ended up with a painful shin, so that didn't work. At least I ran a mile before getting the shin pain and painful stomach cramps.
My role as Editor-in-Chief has been going well and has been keeping me busy. I absolutely love it! It's a tradition that each year the old Editor-in-Chief buys their replacement a Louisville Slugger baseball bat - and I got mine on Thursday. It was bright pink! And it had my name engraved on it. Check it out: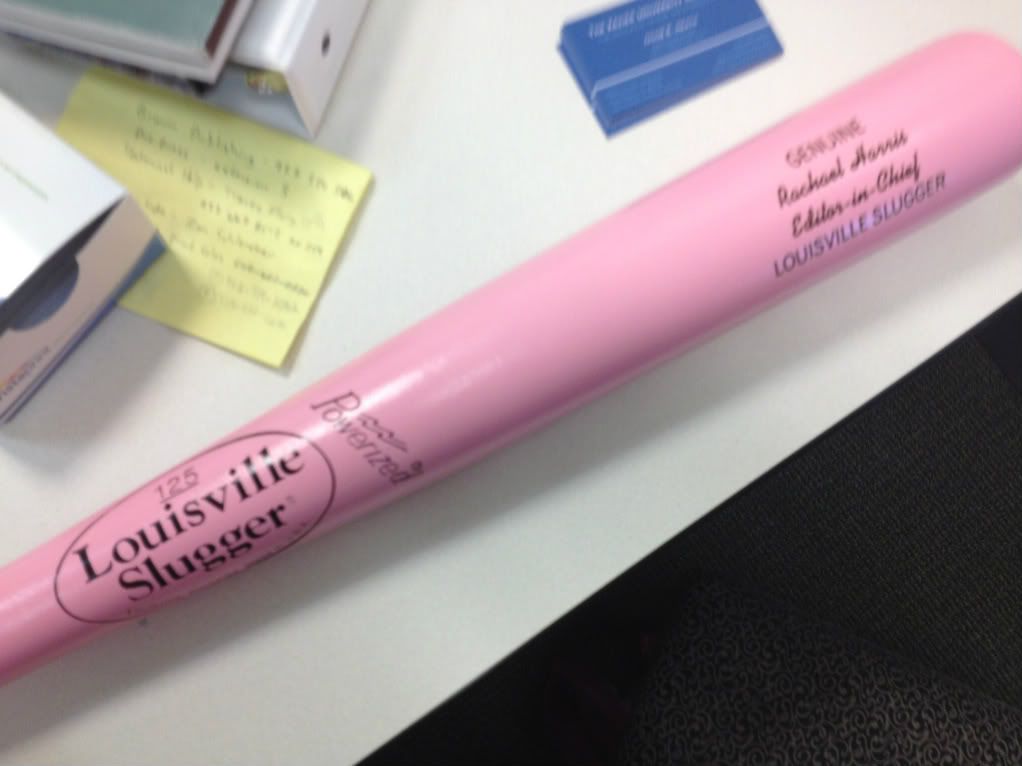 Isn't it awesome?! I have to give a huge amount of thanks to Jake (who I'm replacing) - he has done a great job training me and I really, really appreciate everything he is done.
I'm also currently looking for a part-time summer job. Seasonal jobs are so hard to find anymore. My mom doesn't believe me when I tell her that no one is hiring only seasonal and they want people who can work through the school year. Hopefully I'll be able to find something!
I was recently sent a few pretty awesome new products to try out. First up,
Rush Bowls
.
I gotta tell ya, I'm a huge fan of these. They are so neat. They come frozen, and each bowl is filled with pureed fruit and some sort of liquid (could be green tea, soymilk, etc), as well as a package of granola topping. You can thaw them overnight in the fridge and grab one for breakfast in the morning! They are so easy. And they taste like sorbet - who doesn't want to eat sorbet for breakfast?
They are vegan, gluten free, refined sugar free, nut free, wheat free, dairy free, no artificial sweeteners, no artificial anything! And not too high in calories. Overall, I loved these. I thought all of the flavors were delicious: Acai Beach Bowl. Gluten-Free Beach Bowl, Power Bowl, Yoga Bowl, and Oasis Bowl. I tend to have a thing for the tropical flavors. You can learn more about the specific bowls
here
!
The Daisy Rating
4/5 daisies
When I first discovered this product, I was a little surprised; I mean, vegan honey? How do you make that? It turns out this delicious stuff is made from apples!
Although it does taste kind of like condensed apple juice, this is really delicious and definitely feels like honey. I put it on a banana, and I thought it was great. I absolutely love it! If you're a vegan who misses traditional honey, this is a great alternative. I highly recommend this. It pours like honey, looks like honey, but smells like apples. It is tart and delicious. Yum.
The Daisy Rating
4.5/5 daisies
I love this company because they make it possible for me to drink pop that is healthy and calorie free. How much better can it get?
Zevia is a Stevia-sweetened soda that tastes like all of your favorite mainstream sodas: Mountain Dew, Dr. Pepper, Fanta, etc. I was lucky enough to be sent six of their flavors to try: Grapefruit Citrus, Mountain Zevia, Dr. Zevia, Cream Soda, Black Cherry, and Grape. They also have 3 new flavors available: Strawberry, Lime, and Cherry Cola.
Although all we tasty, my favorites were Mountain Zevia and Cream Soda. They definitely tasted like the originals! My least favorite my Grape, but that is simply because I do not like grape flavored things. Definitely a personal preference.
All of the sodas were yummy. They were very fizzy and had strong flavors that were easy to enjoy. These are the perfect substitute for high calorie, sugary sodas!
The Daisy Rating
4/5 daisies
What to try some Zevia for yourself? One lucky PD reader will win a coupon for a 6 pack of their own Zevia to try! Here's how to enter! Be sure to leave a separate comment for each entry!
Extra entries:
-Like Zevia on
Facebook
and follow them on
Twitter
-Like Passing Daisies on
Facebook
and follow us on
Twitter
-Tweet about this giveaway and tag @cityxlights13
-
Subscribe to PD
by email (3 entries)
-Post about this giveaway on your own blog and provide the link
-Follow PD on GFC (Google Friend Connect)