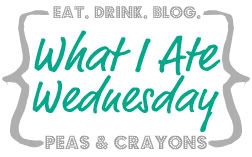 Aaahhh! It's been so long since I've done a WIAW! I've been WIAW deprived lately and I definitely have not enjoyed it. Now that finals are over and school is out (woohoo I'm a college senior!), I hope to be more consistent with joining the party!
I wish I had purchased the pescatarian option...
This week I have been going through the Tone It Up "7 Day Slim Down" - basically the intro into the diet plan/a way to get fit for a special event - and it's been tough. I'm currently on day 4 and have been doing pretty well, I have to admit, although I have made a few modifications. For example, on day 2 I went out to dinner at The Cheesecake Factory with Stuart. However, I got some really healthy thai lettuce wraps with portabella mushrooms, so I still managed to eat a light meal and not stray too far. My parents also got me a tomato caprese salad when they went to Maggianos, so I at that for lunch and saved a couple slices of the mozzarella to use sparingly on my salad throughout the week. Like I said, not exactly on the "7 Day Slim Down," but I think a couple modifications are acceptable. This is the healthiest I've eaten and the most I've worked out in a while so I feel pretty good about it!
For WIAW this week, I'll show you what some of the typical food looks like on the "7 Day Slim Down." Here's what I've been eating, courtesy of Instagram!
Slim Down Scramble
- egg whites, spinach, tomatoes, mushrooms, & Mrs. Dash.
Slim Down Protein Pancake
- egg whites, vanilla protein powder, ground flax, mashed banana, & blueberries - and half a grapefruit. The second pancake was a little too moist from extra fruit and turned into a yummy scramble!
Salad
- with green veggies, balsamic vinegar, a tomato, basil, and a piece of mozzarella cheese (ok I cheated I bit here too)
Groceries
- lots of green veggies, fruit, Chobani, beans, hummus, and salad fixings
My workouts have been consisting a lot of the new Tone It Up Beach Babe DVD and this Jillian Michael's DVD:
I also did a lot of running this week for the Flying Pig 5k!
And guess what? I beat my old time by over 4 minutes (nearly 5)! Yay! I would just like to thank the random woman running next to me who, when I stopped running to walk the final .1 mile, urged me to run the rest of the way. Thank you for your motivation. I would not I have run my best without it! My run time was 34:59, and I was pretty proud of that! I ran almost all of the first mile, and it took me around 10 and a half minutes. I think less, actually. One of these days I'll fun the full first mile without stopping.
So, my goal is to stick pretty closely to the Tone It Up nutrition plan and lose weight. I need to get back in shape so badly... I went crazy the last couple months of college with not caring much about how much food I ate, what it was, and when I ate. I ate a lot of crap and unhealthy food. I just ate a lot in general. I need to fix that! Also, Tone It Up has really been starving me of sugar and salt so far, both of which I love, so this is a good thing. I've seen pictures of the transformation people can make while on the plan and I hope to be one of those success stories someday in the near future. Let's go Tone It Up!
I think that's all I have for now. I've been being a major bum this week, lying around my house and petting my puppy. Exactly what I wanted to do before I start my internship & work on the school paper the Newswire office next week :) I really need to unpack still, it is just such a daunting task because there is so much to unpack... *sigh*.
Here's my question for you this week:
How do you keep yourself eating healthy? How do you avoid eating junk food? What do you do for motivation?
I guess that is a few questions haha but feel free to pick and choose what you answer!
Have a great day!
Much love,