Today was the first of my dreaded weigh ins on my 30 Days to 130lbs. plan I made up. I knew the number wouldn't be good, but I thought it would be a little lower than it was.
149.6 pounds. The number staring me blatantly in the face.
Am I happy? No. Obviously not. I don't know if I lost any weight in the past week from working out and trying to eat less, but I'm guessing I didn't lose that much.
This is a huge wake up call for me. I need to be really serious about this and take the next week to a level of high intensity. I need to start being serious about my health and the foods I am eating.
The first thing I did was toss almost all of the sweets and chocolates in my food stash. This was really hard. I did keep a couple things for when I go back to school, but I stuffed them in a box underneath my bed to keep them hidden. Out of sight, out of mind - right?
The next thing I need to do is be strict about my calorie intake. No more than 1200 calories a day. Period. I also need to make sure what I am eating is low in fat and very healthy.
Working out is also extremely important. I have been doing really well with this the past week, and I need to now kick this up to the next level. It's really hard not having an elliptical at home - I really don't really like driving all the way to Xavier, parking a mile away, and then walking to the school gym every day. Honestly, it's a waste of gas. However, I don't feel like I'm burning enough calories with my Jillian Michael's DVDs at home. What do you guys recommend? Right now, my plan is to continue doing Jillian's Ripped in 30 DVD, Extreme Shed & Shred, and spending an hour on the elliptical at Xavier's gym. Not all at once, of course. At least with elliptical I can monitor how many calories I've burned.
The summer I lost my most weight I was a member of a gym about five minutes from my house. Now that the gym no longer offers student summer memberships, finding an inexpensive summer gym membership is a challenge. Sigh.
What suggestions do you guys have for me?
I'm really feeling upset with myself for letting myself gain 10 pounds. A couple summers ago, I was down to 140. Actually, there was a time when I was 135. It's crazy thinking back to that now. I can't even imagine what that looked like. My end goal is ideally 125 pounds, but I'd be very, very happy with 130 :)
Sorry for that little rant. Quick switch over.
Let's talk Chobani.
Have you tried their new Chobani Champions?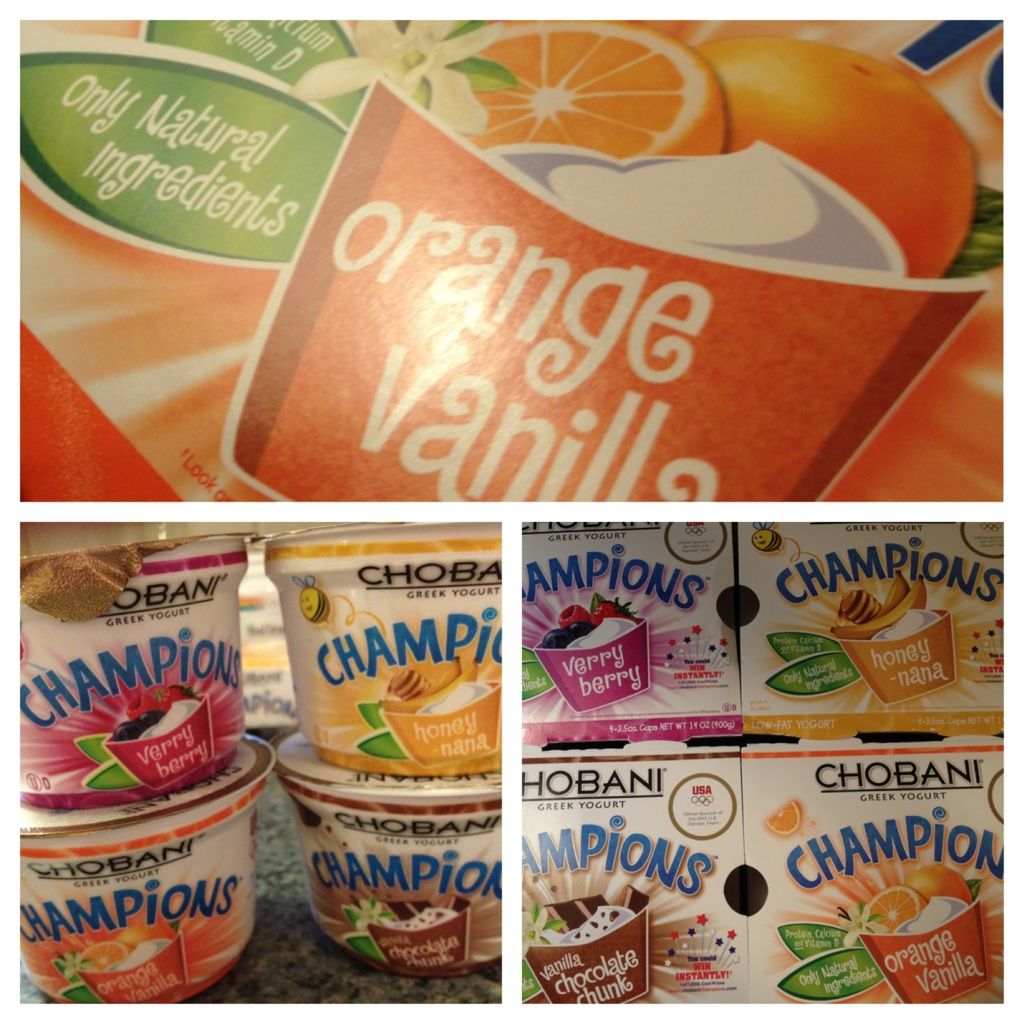 Talk about scrumptious! Cho sent me a huge box of their Champions line to review, and of course, I Was more than happy to review them! They sent four flavors: Orange Vanilla, Verry Berry, Vanilla Chocolate Chunk, and Honey Nana.
As you can probably tell from the packaging, Chobani Champions are geared towards younger kids. The vibrant packaging and the kid-friendly flavors make that obvious. However, I think these are perfect for grown ups as well! Out of all four flavors, my favorite was the Honey Nana. This surprised me because I don't usually like banana flavored things. However, the banana did not taste artificial at all! It actually tasted sort of like a banana cream pie. A banana cream pie that is only 100 calories, of course. What a great substitute for a sweet tooth!
Surprisingly, my least favorite was the Vanilla Chocolate Chunk - a flavor that I thought would be my favorite. I found the vanilla to be a bit too strong for me. It overpowered my taste buds. Don't get me wrong - I love vanilla. And I think this is a good flavor - kids will probably love it. It is just a little too strong for my taste. As far as the two other flavors go - how can you go wrong with citrus and berries? They were both delicious.
Thanks, Cho, for the chance to review this line - I don't think you've ever let me down. Long live Chobani! :)
The Daisy Scale
4/5 daisies
Thanks again for listening to my little rant - any thoughts you have would be super helpful! Thanks loves and talk to you soon!
Much love,