Well, friends - it's about time I stopped eating so much junk food and got my healthy eating habits back in order.
I've been eating so much junk food recently - pasta, burgers, mexican, fries, chocolate, candy - if it's bad for you, I've probably been chowing down on it. Needless to say, it's time to eat more salads and whole foods.
I think I've also gained some unwanted pounds, so I've decided to buckle down and work to get rid of it. I'm starting something I'm calling
30 Days to 130 Lbs.
- meaning I'm giving myself 30 days to work hard towards a goal weight of 130lbs. My ultimate goal is to be 125 lbs, but I think that's a bit unrealistic to do in 30 days. I even made myself a nice calendar on my wall to keep myself on track. See?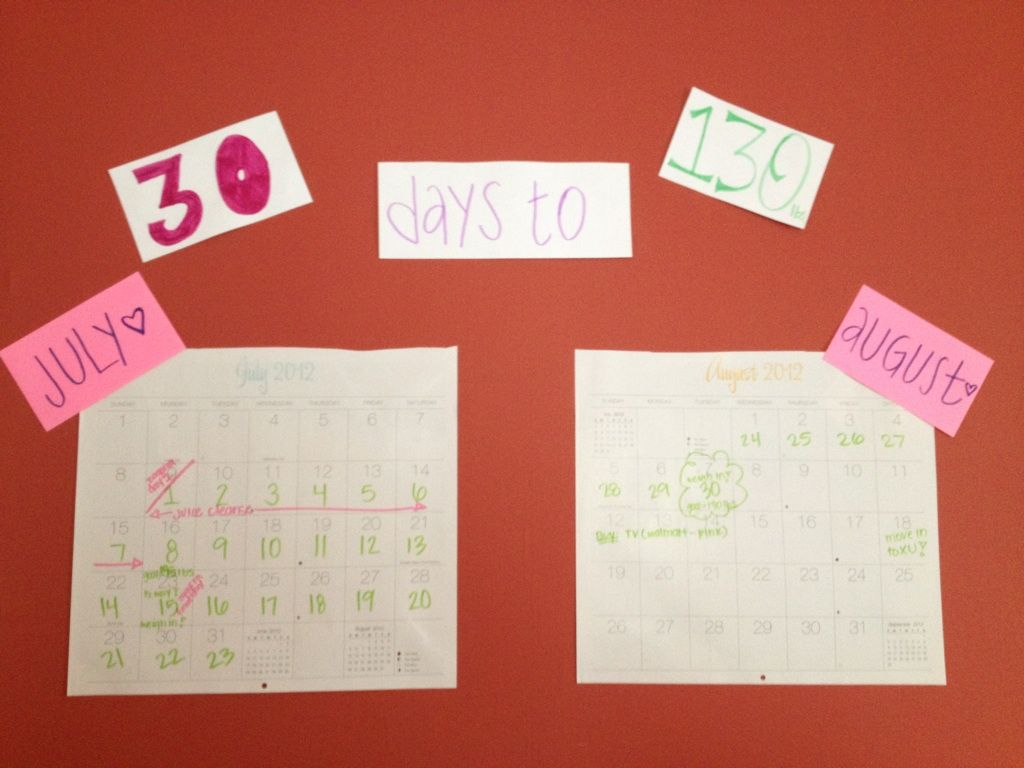 I'm hoping to workout twice a day while doing this. I want to get the best results that I can.
I'm kickstarting my journey by doing a week long juice cleanse. Today is day 2. I'm striving to drink
only
fruit and and vegetable juices every day for the next week - except for a small cup of protein powder and coconut milk after I work out (for protein). Ideally, I think I should be drinking a minimum of five times a day to help keep my metabolism up and running. Hopefully this juice cleanse will kickstart my weight loss journey. After this week, I will weigh myself and see where I am (I'm too nervous to weigh myself prior to starting the cleanse). I will take that weight and use it to see how much weight I lose each week following. Wish me luck!
After the juice cleanse is over, I hope to keep eating healthy, lean, clean, and green. Lean protein and lots of veggies and fruits. Lots of salad and foods that are low in fat. I'm tired of being the weight that I am and I know I can do so much better!!
So far, it has been going pretty well. Yesterday I was extremely hungry, so I ate a couple of crackers. Today I'm feeling pretty good - I think that has a lot to do with the protein I drank after doing my new kettlebell workout.
It was pretty good and definitely had me sweating - Bob has a love for squats. My legs are always extremely sore after a Bob Harper workout, and this one was no different. I also bought another Bob Harper kettlebell DVD:
I'll let you know what I think about this DVD later!
See you guys soon - hopefully with good results from my cleanse!,
Much love,