I was in the mood for pancakes the other morning. You know, the morning when I got zero sleep the previous night because my mind was racing. The morning where I spent all my time working on my blog's layout instead of sleeping. The morning I saw another's blogger's recipe for chocolate orange pancakes.
Those pancakes inspired me.
I had some blackberries in the fridge I wanted to use, so I decided to put them to good use and make pancakes with them. Who knew they were so low in calories, even with 2 tablespoons of melted butter in the batter?! These are practically vegan - just sub Earth Balance for butter and voila! Vegan pancakes. Let me know how much you love them!
Blackberry Orange Pancakes
Based on my Cinnamon Coconut Pancakes
Makes 8 pancakes
1 c. unbleached all purpose flour
1 T. sugar
15 drops orange liquid stevia (you can omit this and use 3 T. of sugar instead if you wish)
2 t. baking powder
1/2 t. baking soda
1/4 t. salt
1 c. vanilla almond milk
1 t. vanilla
2 T. melted butter
1/4 cup blackberries
2 t. orange zest
1. In a medium bowl, combine flour, sugar, baking powder, baking soda, sugar, and salt.
2. In a smaller bowl, combine milk, vanilla, orange zest, melted butter, stevia, and blackberries. Mash the blackberries with the back of your spoon.
3. Combine the two mixtures and whisk until batter is smooth.
4. Spray a nonstick pan with cooking spray and place over medium heat.
5. Using a 1/4 c. measure or a large ice cream scoop, pour batter into heated skillet, making only one pancake at a time.
6. Cook until you see bubbles forming on the top of the batter, then carefully flip pancake and cook until the other side is golden brown.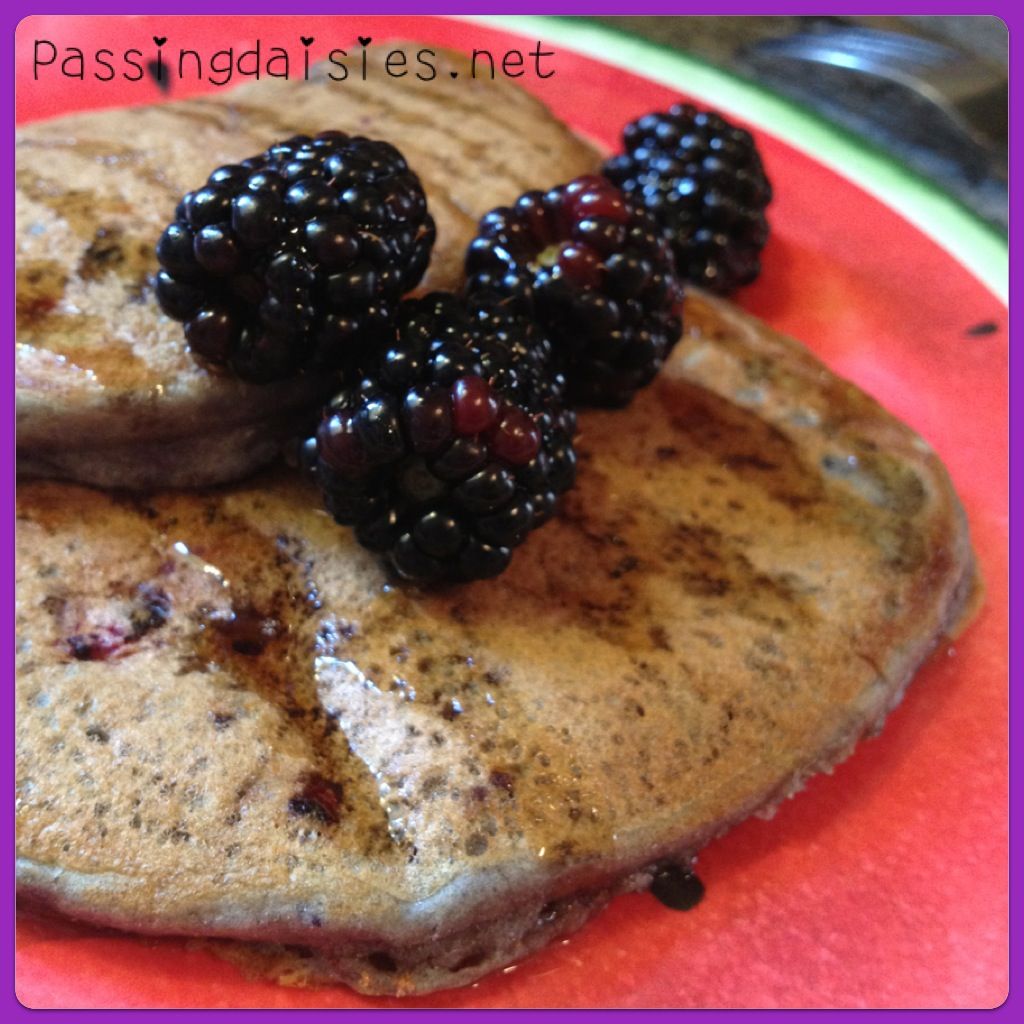 Servings: 8
Calories: 98
Carbs: 16g
Fat: 3g
Protein: 2g
What's you're favorite kind of pancake?
Much love,