Hey guys! Uhg - you have no idea how crazy busy I have been recently with all this back to school stuff. Seriously, so busy - I haven't had any time to blog!!
This month for Daring Bakers, our challenge was to bake pate a choux - basically, the dough used for cream puffs and eclairs. Pretty yummy, right?
Kat of The Bobwhites was our August 2012 Daring Baker hostess who inspired us to have fun in creating pate a choux shapes, filled with crème patisserie or Chantilly cream. We were encouraged to create swans or any shape we wanted and to go crazy with filling flavors allowing our creativity to go wild!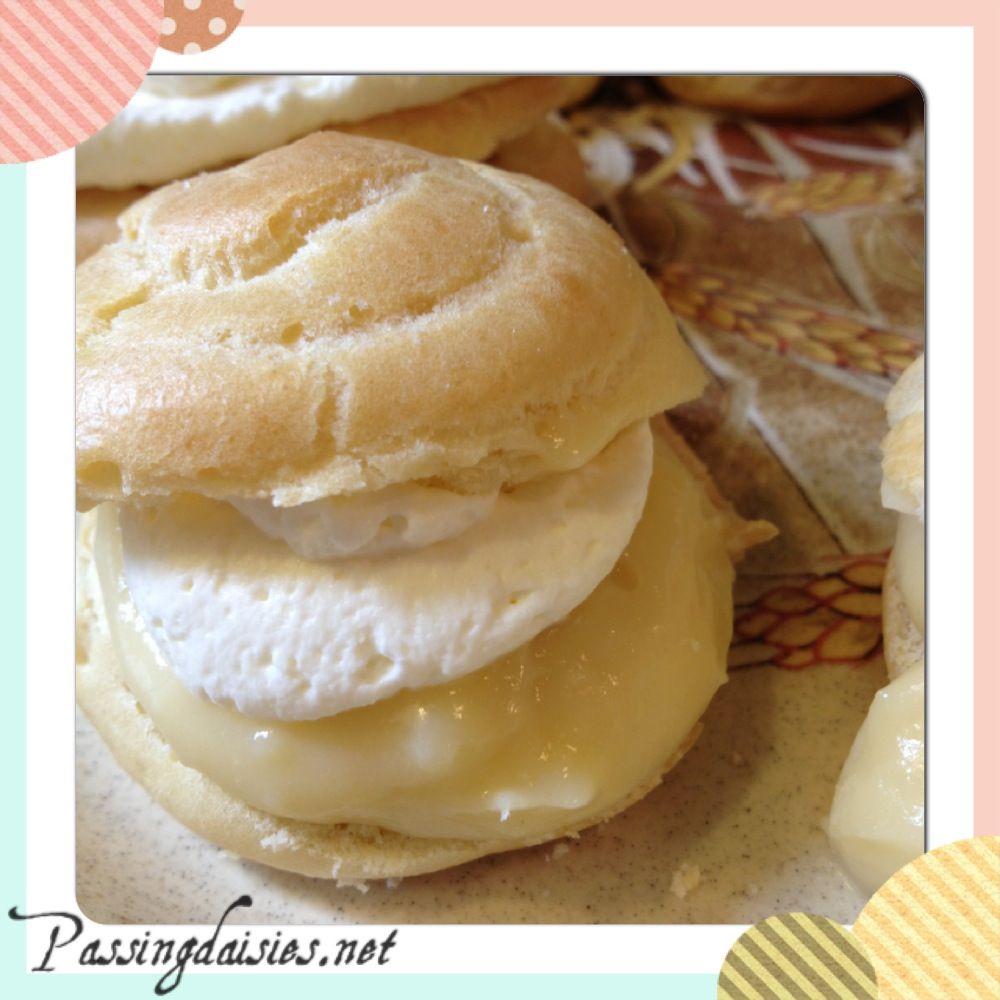 They turned out pretty and incredibly delicious, but I decided to go with the typical circle instead of making swans. I filled mine with a vanilla cream (it was more like a pudding with the flavor or tapioca) and white chocolate whipped cream. Mmmm boy was it delicious!
Seriously, cream puffs are my favorite. If I'd had some, I would've put melted chocolate on top.
This was the recipe I used to make the dough. Below is the recipe I used for the cream filling. I hope you enjoy it!
Vanilla Crème Patissiere
Ingredients:
1 cup whole milk
2 Tbsp. cornstarch
6 Tbsp. sugar
1 large egg
2 large egg yolks
2 Tbsp. unsalted butter
1 Tsp. Vanilla
Dissolve cornstarch in ¼ cup of milk. Combine the remaining milk with the sugar in a saucepan; bring to boil; remove from heat.

Beat the whole egg, then the yolks into the cornstarch mixture. Pour 1/3 of boiling milk into the egg mixture, whisking constantly so that the eggs do not begin to cook.

Return the remaining milk to boil. Pour in the hot egg mixture in a stream, continuing whisking.

Continue whisking (this is important – you do not want the eggs to solidify/cook) until the cream thickens and comes to a boil. Remove from heat and beat in the butter and vanilla.

Pour cream into a stainless steel/ceramic bowl. Press plastic wrap firmly against the surface. Chill immediately and until ready to use.
Much love,