According to the website and the little user manual I received with the pants, these pants make women lose weight 4x faster when they exercise in these pants. This is because Hot Pants contain Celu-Lite technology, which uses your natural body heat to generate results.
A study done at Brighton University found that these pants raised core body temperature (after exercising for 30 minutes) by 18%, increase energy expenditure by 7% during exercise, and calorie burn increases by 26% in the hour after exercising. Naturally, the more calories you burn, the quicker you will lose weight!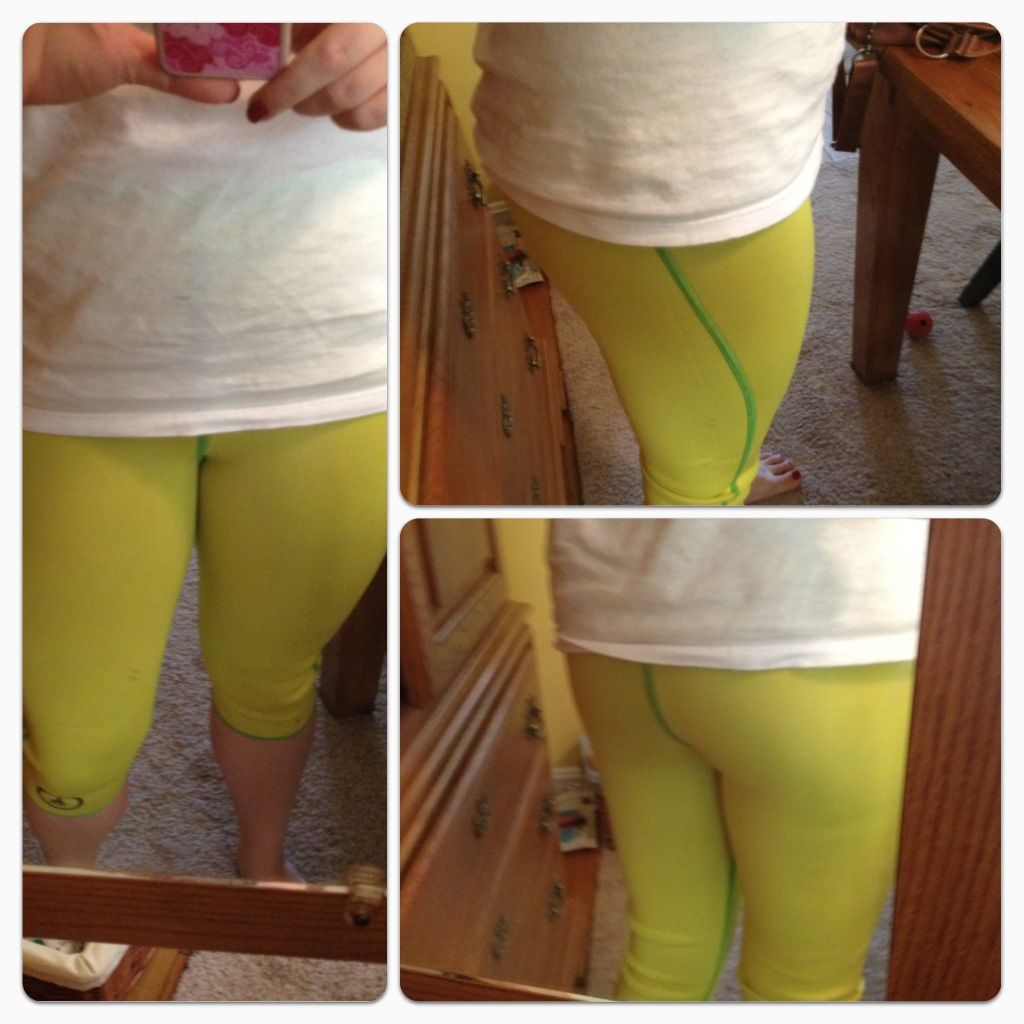 I was excited to try these pants, mainly because of the above statements and the bright colors they come in: pink, blue, orange, green, and yellow. I received the yellow pants. The yellow color wasn't quite as bright as the picture online makes it out to be - I expected a lot brighter - and I'm not sure if I would ever wear these to the gym because of their color. If they had been blue or something a little more neutral, definitely.
The first thing I noticed about these pants is that they fit very snuggly. This is how they are supposed to fit. The next thing I noticed was that the pants make a swishy sound when you walk around in them, which can be kind of obnoxious if you are at the gym. However, in the comfort of your own home (which is where I wear them), it doesn't really matter. They also make exercising a heck of a lot harder. I did a Jillian Michaels workout with these pants on and then did the same workout later in shorts, and let me tell you - so much easier in the shorts! My guess is that this is from the Celu-Lite fabric lining, and this is why you burn more calories when you work out. The pants add more resistance to your workout, which makes your workout harder, which in turn makes you burn more calories from working harder.
The question remains: do they actually make you lose weight faster? I took the Hot Pants "2 Week Challenge" - wear the pants when you workout for two weeks and see what happens. So I did just that. No fancy workouts or longer workouts - just what I would have done anyways. I did mostly Jillian Michael's DVDs during this time.
The result? I lost 5 pounds in those two weeks. So I guess they do work!
The people at Zaggora have offered to giveaway three pairs of their Hot Pants Viva. How awesome is that?! That means three lucky winners will win a pair! What color do you want? Here's how to enter - just a leave a separate comment for each entry.
1. Tell me why you want to try these pants and what color you would prefer to win.
2. Subscribe to Passing Daisies by email (3 entries)
3. Follow me on GFC or Blogger
4. Tweet about this giveaway, include a link, and tag @cityxlights13
Giveaway ends Wednesday, August 15th at 11:59PM EST. Giveaway open to readers anywhere in the world.
Much love,