Guys! Oh my goodness it has been SO LONG since I've participated in a WIAW! Let's fix that. I miss it.
Ever since day one of my job at Cincinnati Magazine, I have been overwhelmed with all the free food. Free tacos for lunch on my first day, free chinese for lunch at the staff meeting today, free donuts for breakfast, and free cupcakes at
least
once a week. And we all know cupcakes are virtually my favorite food. I consider them a food group all on their own.
Here we have a chocolate peanut butter cupcake, which was pretty good. Apparently one of the staff members loves to bake, and bring in some sweet item (I've noticed it's usually cupcakes) at least once a week for the staff.
Naturally, I think I'm going to fit right in. I plan on baking something for the staff and bringing it to work sometime soon!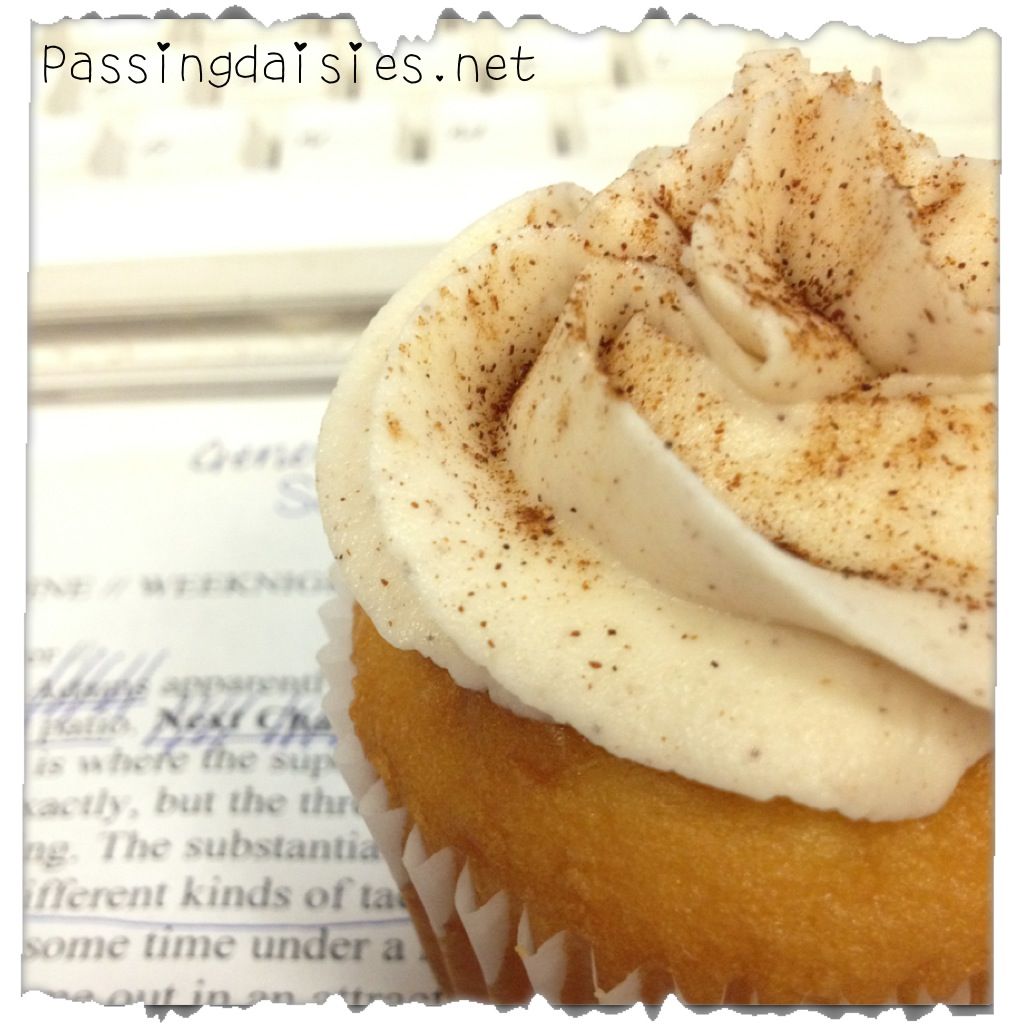 This is an apple cinnamon cupcake that I had on Monday - so yummy! It had some sort of fresh apple filling inside the cupcake. Since it's now almost fall, and I love fall...and apples and pumpkins = fall, this was naturally delicious and definitely in season. She also brought red velvet, chocolate, and the chocolate peanut butter cupcakes pictured above.
This cupcake was from work today. My boss, Jonah - who we just found out is leaving us for a position at another magazine (I'M SO UPSET! He's the greatest boss I could ask for.) - went to his sister's wedding over the weekend and brought back some goodies. They were wrapped up in plastic and tied with ribbon - super cute! I believe this was a dark velvet cake, or some sort of chocolate...isn't the fondant cute? Loved it. This was my favorite cupcake so far. Jonah also mentioned he comes from a "cupcake obsessed family," because his aunt made chocolate cupcakes as well. I think I fit right into the Cincinnati Magazine staff, don't you?
I hope everyone is doing well. I'm still recovering from my breakup, but I am doing a heck of a lot better, I have to say. I've even heard rumors that a couple guys like me (wait, what?!), and I have a couple guys who have potential on my radar as well... pretty sweet, I gotta say :) Life is going well.
Much love to everyone, and talk to you soon!